From a Thousand Euros to Over 100 Million – An Interview with Damian Merlak Co-Founder of Bitstamp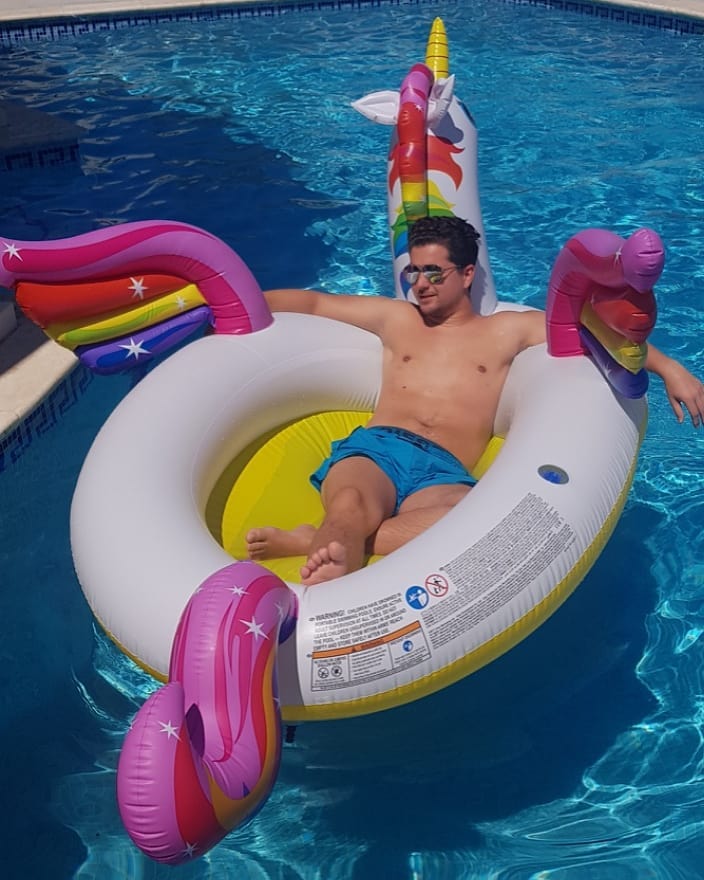 Young people often dream about how to get rich quick. But according to 31-year-old Slovenian millionaire Damian Merlak, there is no shortcut, and:
"Sometimes you also need luck."
Merlak is a co-founder of Bitstamp Exchange, Tokens.net (crypto-to-crypto exchange), and Quantum Project. He's also in the 37th place on the rankings of the most influential Slovenians and the country's youngest millionaire.
Seven years ago Damian Merlak bought his first bitcoins, for about two dollars each. He doesn't have those bitcoins today anymore.
"Practically nobody who bought bitcoins for a couple of dollars each hasn't kept them until today. Perhaps only someone who forgot he owns them."
With those words, the myth of millionaires who spent a few hundred dollars for the initial purchase of bitcoins was broken down. The first stop on the road to his own fortune was mining bitcoins.
More than seven years ago, he entered a specialized shop in Kranj, Slovenia and ordered the two newest, most powerful graphics cards, which he wanted to connect with the slowest processor and worst memory card (RAM).
All the PC specialists were confused: "What are you going to do with such a computer?" asked Nejc Kodrič the owner of the mentioned shop, and was quickly infected by Merlak's enthusiasm over bitcoins.
In 2011, they were hanging out and debating about the crypto world which soon turned into business cooperation when they founded the Bitstamp exchange.
They received $10 million in startup funding to develop their idea. At that time there was Mt. Gox, a Japanese exchange platform, which offered a poor user experience. Getting money to Mt. Gox and getting it out was very difficult, as well as completing orders for sales and purchases.
The user platform was dull and useful only for technically trained people. According to publicly available data, they calculated that Mt. Gox was earning $10,000 a day from commissions.
"We calculated that if we're as bad as they are, we can earn $10,000 a day."
In the meantime, many exchange platforms including Mt. Gox did not integrate well and did not succeed, but Bitstamp remains one of the largest crypto exchanges in the world.
It has its headquarters in Luxembourg and offices in New York, London, and Slovenia, where its center of development also is. More than 100 people are employed at Bitstamp, while Merlak and Kodrič, each of them with more than $100 million dollars of assets land in the group of most rich and influential Slovenians.
From Crypto Startups to Farms
Damian Merlak considers himself to be a serial entrepreneur. And in order to pursue all of his business ambitions, he resigned from the executive position in Bitstamp, but he remains a 32% owner and member of the Supervisory Board.
He got into some of his projects through the issuance of crypto coins (ICOs – initial coin offerings). The Quantum Project based on this idea, which offers trading strategies, collected him $4.12 million.
With the Tokens.net project, which is a crypto-to-crypto exchange, he raised an amount of $15 million through an ICO. In addition to crypto enterprises, Merlak also focuses on more tangible things: he owns a farm which has 1,100 living animals. He also owns a veterinary clinic and a retail store with textile products, as well as several real estate properties.
Let's dive deeper into the man behind Bitstamp and find out how he got to where he is today.
Can you give us a quick introduction to your background? How did you get where you are today and what does your company do?
A colleague with whom we worked on projects told me about bitcoin in 2011. When I checked the subject on the Internet, I first said that I was not interested. At that time the price was about two dollars. Two months later, I accidentally caught the price of it between 15 and 20 dollars. This difference aroused the interest in me.
Then bitcoin fell again and I started buying. I was also interested in technology and the system that runs the background. I started to participate in the forums. First I was only buying bitcoins, then I saw an opportunity in mining them.
I went to a classmate and ordered graphics cards and everything that was needed to mine bitcoins. The thing started to interest him, but his brother, Nejc Kodrič was blown away too and soon started to explore the topic, and within some time we together formed the idea of Bitstamp.
At the moment, there is a large assortment of crypto exchanges around the world, and Bitstamp is one of the largest and it is the only licensed company in Luxembourg. On our exchange, not only individuals but also institutional clients can buy and sell crypto coins. A fund or an investment bank can't operate in an unregulated entity or with a "Monkey Business," as I call it.
Bitstamp maintains the strategy of the fiat to crypto exchange and vice versa. We have a large array of new virtual currencies and projects that are funded through ICOs. I think that these supporters need to provide adequate infrastructure, so I decided to establish Tokens.net. The exchange platforms are complementary to the activity and services they offer.
When did you make your first million? Can you remember the first thing you bought?
It was in 2013, I was 27 years old. When I earned the first million I bought a car – a Tesla model S. I invested the rest in my business.
Did your life change when you become a millionaire? How so? Have you gotten many new "friends"?
Not really, I might have lost some. I do not think the money changed me. I think the information and insight into the system at first hand have changed me. Now I know a lot of things that I didn't know before, that's why I respond differently to things that are happening around me.
Probably your friends, acquaintances, and colleagues ask you how to make quick earnings. What do you answer them?
I avoid giving financial advice. You don't gain anything from it, just a problem when the market reverses, and people only really like the green numbers. Do you know how much more a 10% loss hurts compared to the sweetness given to you from a really good 10% profit?
Would you say that investing in crypto is like gambling?
Of course, there are risks. I advise people who invest, to learn about the technology itself, what it offers and what its weaknesses are. Many will burn, many have already. I also suggest that people invest in the largest, credible coins and don't seek quick benefits in various schemes that someone sells door-to-door. The most important thing is to invest when the value is low and not when it reaches its all-time high.
It is the same as Stocks of Tesla, Twitter, Snapchat and various. The average daily volatility of bitcoin is mostly 3% (let's leave aside the crypto-bubble, which was created in December of the previous year). That can be compared with many technological stocks on the US stock exchange market NASDAQ. Investing in tokens (ICOs) is actually investing in startups. Profits can be huge, but the successes will be rare.
Have you been lucky entering the crypto world?
Seven years ago, I was firmly convinced, and that is why I also invested all my thousand euros of savings in bitcoin. If only then I had more savings… [ laughter].
Many crypto millionaires are moving their crypto-money to real estate – from virtual to physical, including yourself. Why is this a good idea?
Simply, the fortune has to be dispersed. The majority of my properties are linked to the success of the cryptocurrencies, and it makes sense to bring some of it to a bigger range and some other fields.
Where else do you have your money invested?
Shares and stocks of US companies, real estate for tourism, private companies with good cash flow. I have a farm with 1,100 living animals. I plan to build a boutique hotel. Due to great growth, my shares make me apprehensive so I protect them by buying options.
What made you decide to buy shares?
I have been trading with traditional shares for more than 10 years. That brought me to the world of cryptocurrencies. In recent years, I have been doing this with a distance, mainly because of staying in touch with cryptocurrencies.
I use the options because it is much easier to limit the risk with them, and they also allow earnings in the form of a premium on possible sales in short periods of time.
Changes in the crypto world are very fast. Do you get any sleep at all?
Otherwise, it would not be fun! We'll deal with boring business in 20 years.
Where do you live and what does your workday look like?
I live and work from home, from my small house in Malta. I decided to cooperate with Maltese local financial companies and the country of Malta in new projects because it regulates and is open to the possibility of licensing and dealing with cryptocurrencies.
Moreover, winter is not really my favorite season, and the Maltese climate was only an additional advantage in deciding.
You have enough to retire, why don't you do that?
I'm already somewhere warm, and I think I'll never really retire. I love doing the things I do and living the way I live and I can't imagine what my retirement will look like.
What do your parents say about your success?
They are proud.
Did your parents help you financially with your entrepreneurial ventures?
No. My fortune in life is that I come from a rather modest family, so I had to create everything by myself, which made me value my work even more. People who are born with everything tend to achieve less.
What advice do you have for people just starting out with a business or trying to make their fortunes?
It is necessary to perceive what is happening around you. If you are passive, things will pass you by. You have to be up-to-date with international flows and understand them. Expand your view. You have to set up a big, realistic and with a little luck accessible goal. Try to work with companies from industries and activities of your own interests, connect with them when you're educating yourself.
If you create wealth slowly, you have a completely different perception of it. If you hit the lotto overnight, wealth can be a problem. But if you build a company and you don't earn anything in the first year, you might start paying your salary in the second one. The third year you might reach some higher growth and start paying your salary, as you always wanted.
This is the organic growth, personal growth, that makes you understand money. After six years, Nejc and I agreed to have reached that point. Today I have a healthy attitude towards money, which makes me have less true friends than I used to have years ago.
Featured image from Instagram •Damian Merlak (@damianmerlak).