Making Money From eSports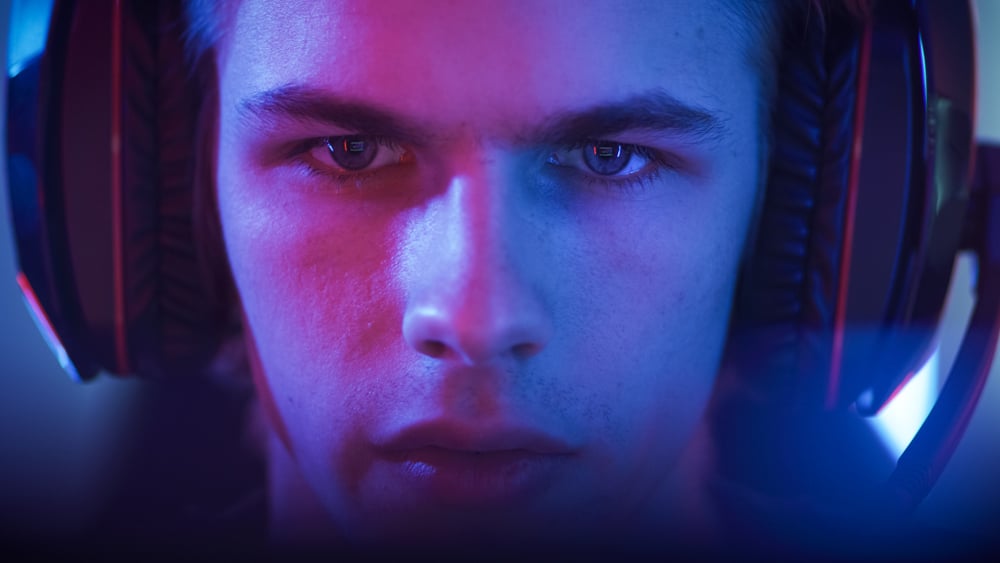 The rapid expansion of the eSports industry, including the growing millions of viewers who tune into to watch their favorite players battle it out, means there is plenty of money to be made from this lucrative new space.
The opportunity eSports presents is not just one for the game creators or media giants, players and teams are set to make their fortunes too. That's not all, a thriving new sector creates possibilities for startups, entrepreneurs, and investors.
The sector is driven by, and for, the millennial and Gen Z generations, many of whom lean more to the space than to traditional sports, hobbies, or viewing.
Kent Wakeford, Co-founder, and COO of the world's 7th most valuable eSports company, Gen.G, told VentureBeat recently:
"What you're seeing is a tectonic shift in viewership and consumption from the millennials and Gen Z — gaming is the preferred entertainment."
The eSports industry is likely to generate around $1 billion dollars this year, a figure set to grow to $1.65 billion in 2019. By 2023 the value of the eSports industry could reach $2.17 billion. Wakeford's company Gen.G is valued at $110 million.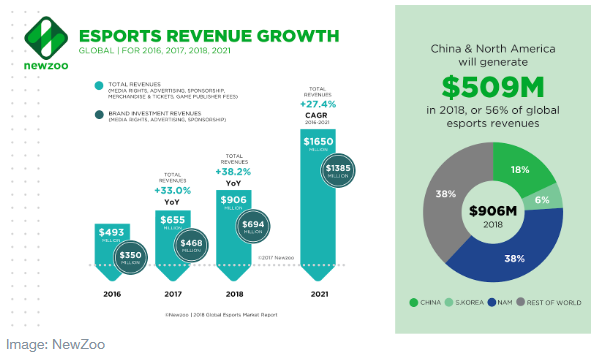 The U.S eSports Industry is Set to Grow
Wakeford says that more than 22% of American millennials watch eSports, and that's more than the number who watch Major League Baseball or the NHL. The total number of eSports viewers is around 300 million today and likely to grow by as much as 50% by 2019. Around 50% of eSports viewers live in the Asia-Pacific region, a further 15% in the U.S, and around 18% in the EU.
"I believe that in the future we're going to see viewership continue to grow and surpass traditional sports, including the NFL."
Prizes, Endorsements, Streaming, and Merchandising
eSports players and teams are making their money from tournament prizes, sponsorship, and endorsement, as well as appearances and merchandising.
Just a handful of Fortnite's top players have earned a combined $1.2 million already in prize money and the top ten eSports companies and teams are worth a combined $1.5 billion.
Nike recently sponsored it's first eSports player, League of Legends player "Uzi."
Players can also earn as much as millions, and certainly thousands, from streaming their live play and other broadcasts on platforms like Twitch and YouTube. Tyler Blevins aka "Ninja" now earns more from streaming than he does winning tournaments and is worth around $10 million.
eSports fans are engaged by the stories and daily lives of their favorite players. Celebrities like Ninja can make their fortunes, but amateur players can also make plenty of money through streaming and vlogging, taking advantage of the monetization opportunities of the web.
Other players are paying their way through college by coaching online for popular game titles.
Game Revenue, Live Events, Media Rights, Advertising and Big Buck Sponsorship Deals
Event organizers, gaming companies, and rights owners earn millions from live events, sponsorships, and a very lucrative income from media rights.
In January 2018 Overwatch League and Twitch signed a historic partnership which made sure the Overwatch tournaments were available to viewers around the world.  Overwatch creator Blizzard entertainment is worth around $18 billion. League of Legends, developed by Riot Games, is worth $15 billion alone significantly contributing to the overall value of Riot Games at $21 billion.
Gen.G COO, Wakeford, expects media rights to be a key growth area for both big game leagues and for individual teams and players:
"That's a key area of differentiation from traditional sports, where esports teams are highly engaged and doing a lot of innovative content creation through streaming platforms."
Sponsorship deals, as well as the number of opportunities, are becoming more profitable too, Wakeford explained why:
"Well-known Fortune 500 brands and marketers coming into the space."
These brands are beginning to understand the eSports industry and the scope it presents for sponsoring teams and players, as well as live events with audiences set to rival traditional sports.
Mastercard became the first global sponsor of League of Legends in September 2018, joining other big name sponsors who have committed at a regional and national level including Mercedes Benz, Doritos, Gillette, and Adidas.
Spin-Off Opportunities
This burgeoning industry is creating eSports cities, jobs, inspiring startups and entrepreneurs, and even reviving traditional sports as this sector learns from eSports how to engage the millennial and Gen Z generations.
Let's not forget too, the impact on game development and the wider video game industry. eSports may be dominated by brands like Epic Games and Riot Games but independent developers publishing directly to the web and app stores have an enthusiastic gaming audience to lever too.