NFL Rams Andrew Whitworth Donates Paycheck to Thousand Oaks Victims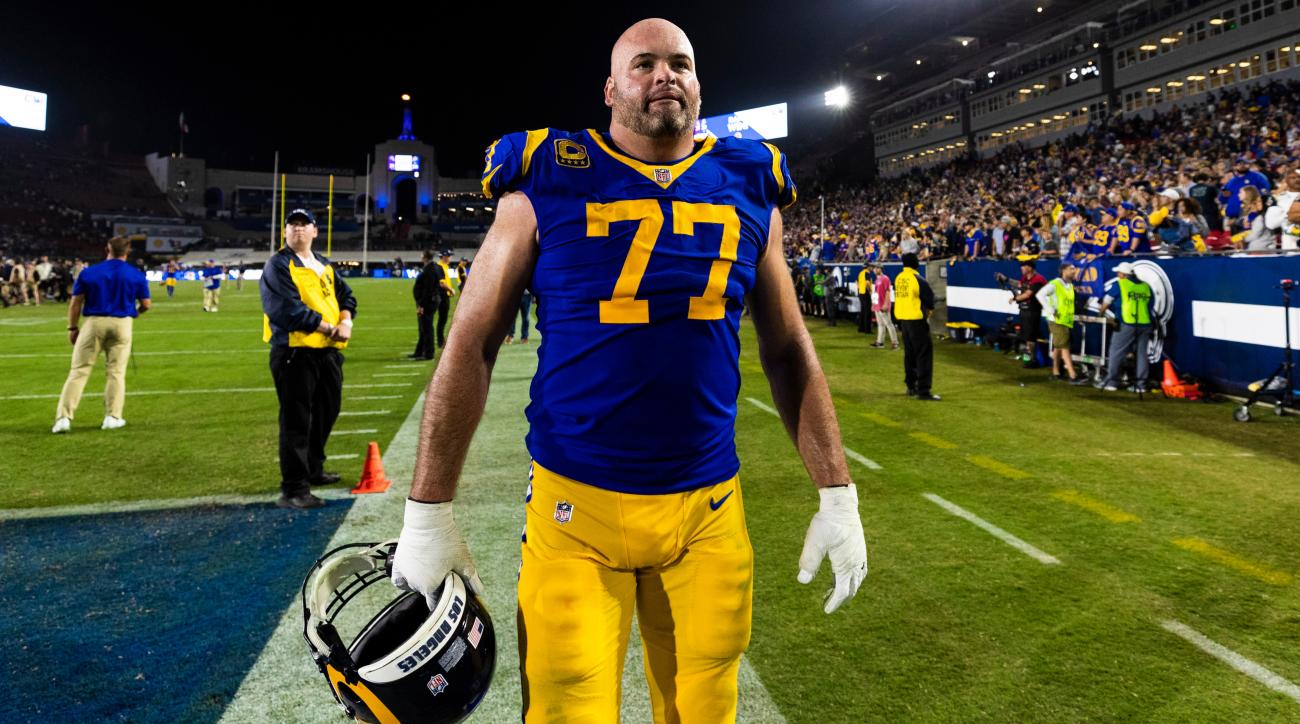 The recent Thousand Oaks shooting was a tragedy. Rams captain and starting left tackle Andrew Whitworth decided to reach out to the community he calls home. According to Jay Glazer at The Athletic, Andrew Whitworth will be donating his week 10 game check to:
"help the families and victims of the shooting."
The average NFL player makes around $2 million USD per year. As a 13-year veteran of the NFL, Andrew Whitworth was able to ask for a bit more than that. He signed a 3-year, $36 million USD contract with the Rams in 2017, which breaks down to around $60,000 USD per game.
His donation is meaningful and shows that people who have made good in life aren't afraid to give back. While no amount of money will bring solace to those who lost friends and family in the tragic shooting in Thousand Oaks, it does show that there is good in the world too.
Andrew Whitworth Sets a Great Example
There's no getting away from the harshness of life. As the Thousand Oaks shooting demonstrates, there are people out there who don't care at all for others. While the circumstances are terrible, they do allow leaders like Andrew Whitworth to show the world what giving can do in the wake of a tragedy.
Andrew Whitworth isn't alone in the NFL when it comes to giving. Earlier this year when Hurricane Florence ripped through the East Coast of the USA, Carolina Panthers owner David Tepper stepped in to help the community.
The Carolina Panthers decided to donate more than $1 million dollars in aid, including a $1 million dollar donation to the Red Cross. They also worked directly with the affected areas and helped high school athletic programs which were damaged by the storm.
No one forced Andrew Whitworth or David Tepper to give. They both did the right thing and shared with people who suffered losses from circumstances beyond their control.
Giving Helps
It's easy to say that giving $60,000 USD away is easy for someone like Andrew Whitworth. He has a pile of cash compared to most people, and more coming in all the time.
However, he has to work hard for that money. Andrew Whitworth has spent his life honing a skill to the point that he is one of the top NFL players. Most players in the NFL last three seasons, he has gone on for 13.
Pretty impressive, no?
The simple fact is that while it's easy to overlook giving and charity, it's much harder to make a difference for the better. Even if you don't have tens of thousands to give, there is always a way to do some good in the world.
Small amounts of money add up, and most charitable organizations will accept volunteers.
If you have time or money to give, consider yourself lucky, and look for a good way to share your luck with those who aren't as fortunate as you at the moment.
Featured image from Sports Illustrated.