Heavyweight Boxing Champ Anthony Joshua Flexing It up in Jamaica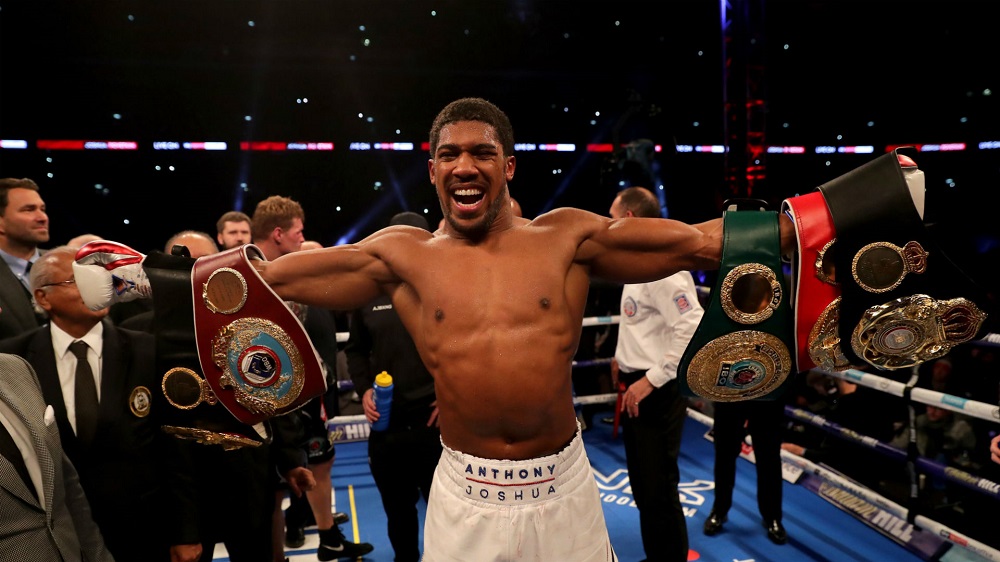 When heavyweight boxing champ Anthony Joshua faced drug dealing charges in 2009, who would've thought nearly a decade later he would pack out 80,000 seater stadiums and be spending $3,000 per night on luxury accommodation in Jamaica?
The UK boxing star has reportedly earned over $50 million from boxing since turning pro in 2013, although Forbes reports that the chiseled pugilist has a net worth of $38 million.
Anthony Joshua Relaxing in the Sun
Over the past week or so, Anthony Joshua has been recuperating from his last fight against Russian Alexander Povetkin, by chilling in Jamaica and spending almost $3,000 per night on a luxury villa. Long gone are the days of shifting weed to punters in dark alleyways.
The 29-year-old boxing sensation has been staying in a state-of-the-art luxury 5-bed villa with majestic elevated sea-views overlooking the Caribbean. The villa comes equipped with an on-site gymnasium–because anyone who knows Joshua will tell you he's always in training, even when relaxing.
And by his own admission, he's at the top of the world and having the time of his life:
🇯🇲 JAMAICA 🇯🇲 Got me feeling on top of the world #AJBXNG pic.twitter.com/5g7I7LP9Lj

— Anthony Joshua (@anthonyfjoshua) November 8, 2018
Can Anthony Joshua Conquer America?
Anthony Joshua, more commonly known by his adoring fans in the UK as 'AJ', is a household name across Britain, Europe, and many parts of Africa. In his last four fights, his combined attendances are over 300,000 people.
His PPV figures in the UK are apparently over 1 million buys every time he fights. He actually holds the PPV record for a single boxing match in the UK with over 1.5 million buys against former champ Wladimir Klitschko in April 2017.
When you take into consideration that Joshua has only had 22 fights (all wins) and is still a relative novice in a professional boxing sense, he is already one of the highest paid sports stars in the world, and one of the most decorated.
At this moment, Anthony Joshua is the second-highest paid active boxer in the world behind Canelo Alvarez, and he hasn't even cracked America yet. When he does, he will become not only the highest paid boxer in the world but maybe even the highest paid person in the sports world.
His marketability is truly sensational. He always stays humble, has legions of fans young and old, and crosses racial barriers. His transition from a rogue weed seller to Olympic gold medalist in 2012, to now being the holder of three heavyweight belts is truly inspirational to disenfranchised youth across the planet.
Anthony Joshua deserves his well-earned break and will be back to fight in April, hopefully against either Tyson Fury or Deontay Wilder to claim the fourth and final belt to become the first undisputed heavyweight champion in the world since Lennox Lewis.
Featured image from Sporting News.