Even Warren Buffet's Investments Have Been Affected by Market Volatility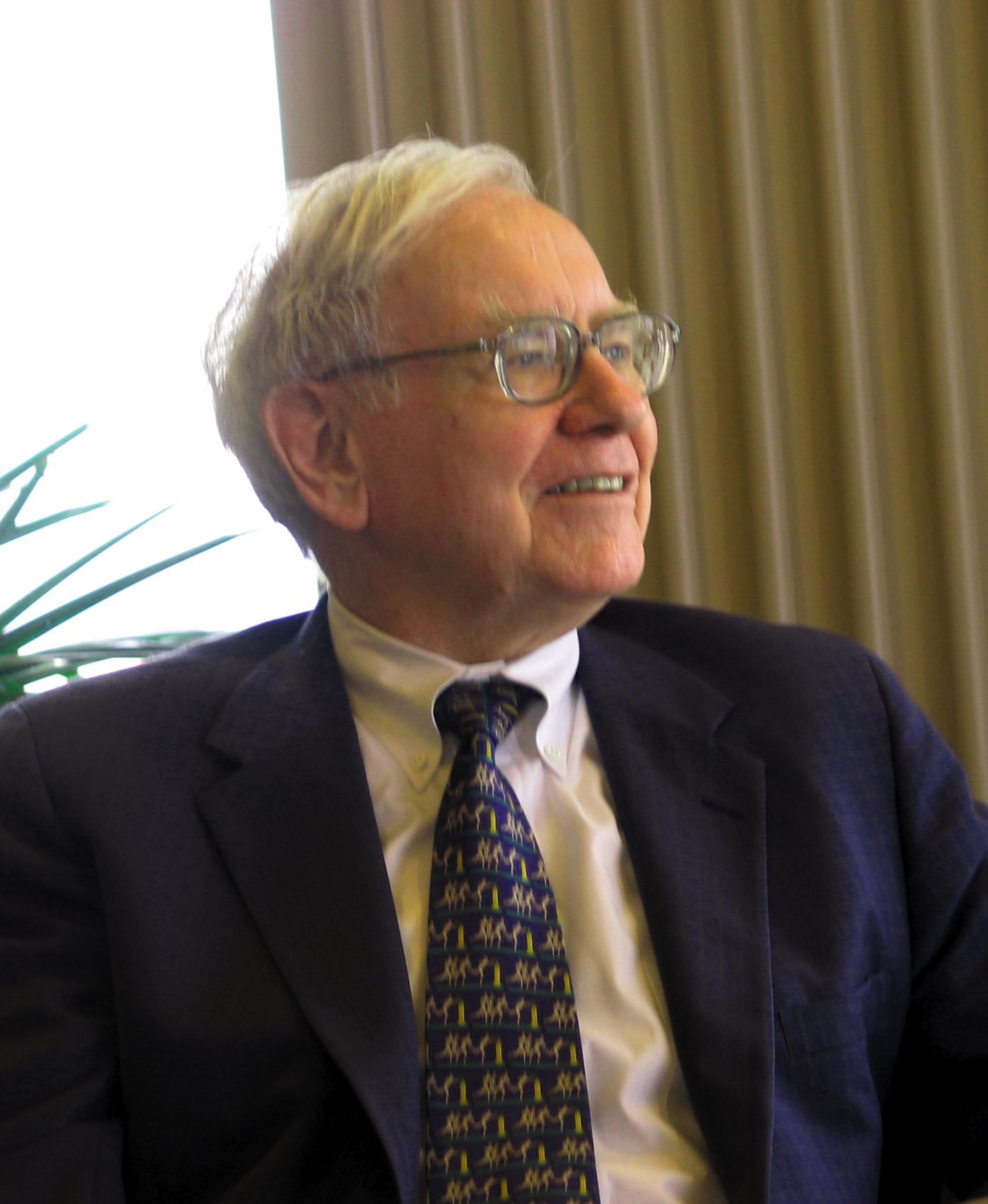 Shares in Buffet's Berkshire Hathaway portfolio are down 4% in October and only up 4% so far across 2018. Warren Buffet has been affected by market ups and downs, just like many other investors large or small.
The "Oracle of Omaha"
Buffet is one of the most successful and followed investors of all time. He's also the third-richest person in the world and was in 2008, the richest person in the world. Buffet, known as the "Oracle of Omaha," is worth around $84.3 billion.
His holding and investment company Berkshire Hathaway is the third largest public company in the world and has nearly $800 billion worth of assets.
It owns Dairycrest, Fruit of the Loom, GEICO, and BNSF Railway, among others, outright. It also owns 26.7% of Kraft Heinz Company, 17.6% of American Express, 9.4% of Coca-Cola, 6.8% of the Bank of America, and 5.22% of Apple.
More recently, Berkshire Hathaway has increased its holdings in the major US airline carriers including United Airlines and Delta Air Lines.
Philanthropy and Frugality
Buffet, at aged 88, is still Berkshire Hathaway's chairman and CEO. He's known for his investment acumen, his philanthropic efforts, and his frugal lifestyle.
The investor has pledged to give 99% of his fortune to charitable causes and he donates significantly to the Bill & Melinda Gates Foundation. Along with Bill Gates, Buffet founded The Giving Pledge in 2009 where billionaires commit to contributing to more than half of wealth to philanthropic causes.
Buffet's 2018 Investment Performance
Berkshire Hathaway shares, the most expensive shares in history, are down 4% in October 2018, down 8% on an overall 12-month high, but up more than 4% this year. The 4% increase marginally beats the overall performance of the Dow and S&P 500.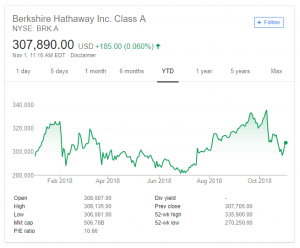 One of the biggest sources of Buffet's current underperformance is the investment in Kraft Heinz, a purchase with equity firm 3G in 2013 and a further deal in 2015.
Berkshire Hathaway owns 325 million shares in Kraft Heinz forming its third-largest holding. Kraft Heinz stocks are down 30% this year and due to report its latest earnings this week. Shares and earnings for Kraft Heinz are forecasted to drop even further as consumers choose healthier foods over processed ones.
Berkshire Hathaway's financial investments are also performing poorly led by 12% drops in Wells Fargo and Bank of New York Mellon stocks. Other stocks, like American Express, Moody's, Coca Cola and Delta shares are also relatively flat for Berkshire Hathaway. General Motors stocks, another of the giant's investments, are also down more than 10% this year.
Saving Berkshire Hathaway's performance for 2018 is its investment in Apple, its largest holding. Buffet's company owns 252 million shares worth $55 billion. Apple's latest earnings are due out any second and may determine Buffet's success for the rest of the year.
Featured image by Mark Hirschey.