Elon Musk Trolls Fortnite Players, the Game Fights Back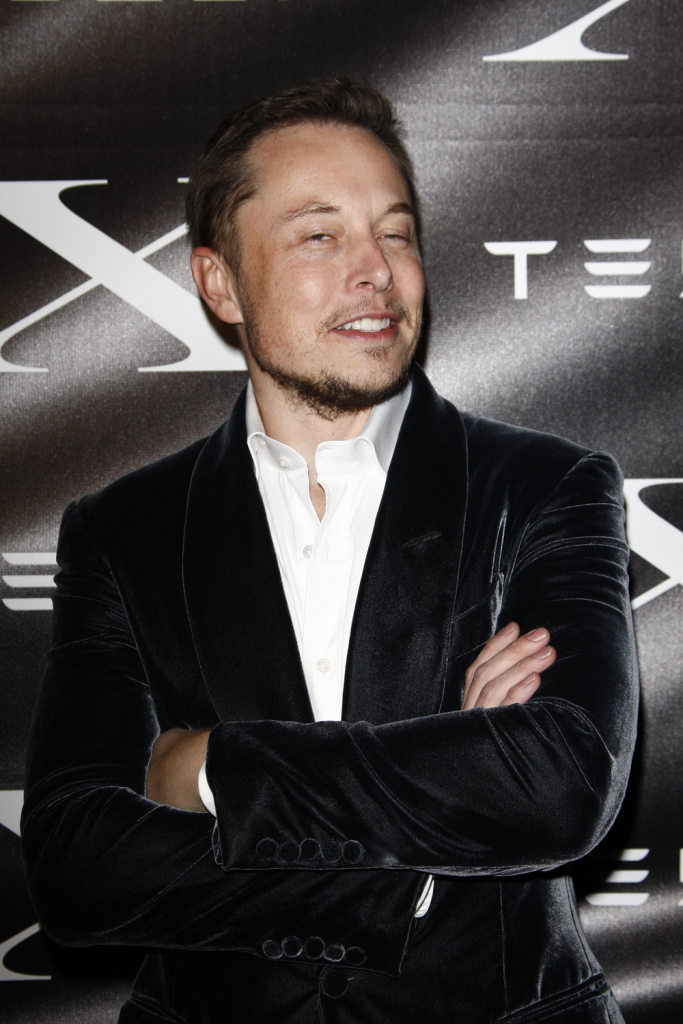 The CEO of Tesla and SpaceX Elon Musk is at it again. He got involved in a dissing contest with Fortnite via their respective Twitter handles on Friday. Apart from shaking investor confidence in Tesla, Elon Musk trolls Fortnite in his spare time as well.
Musk threw the first potshot by sending out a screenshot from a non-existent MarketWatch.com article, with the headline, "Elon Musk buys Fortnite and deletes it."
Topping the sarcasm was a quote from Musk which was associated with the screenshot reading:
"I had to save these kids from eternal virginity."
In his own parody-esque commentary to the screenshot, Musk tweeted, "Had to [be] done ur welcome."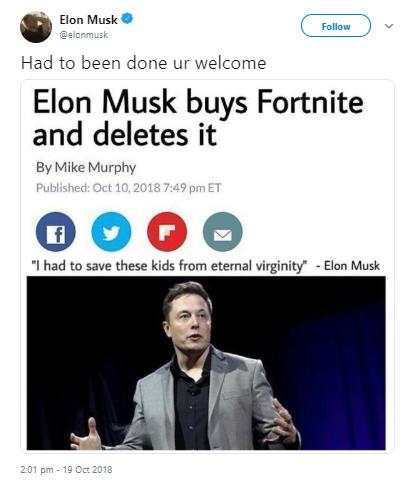 Elon Musk Trolls Fortnite and the Game Fights Back
Fortnite's official Twitter account was, however, not willing to get trolled and drew its own satire by reminding the billionaire that a whole decade might not be enough for SpaceX to build a base on Mars.
The tweet from the video game company reads: "A whole decade, @elonmusk? Just build, LOL."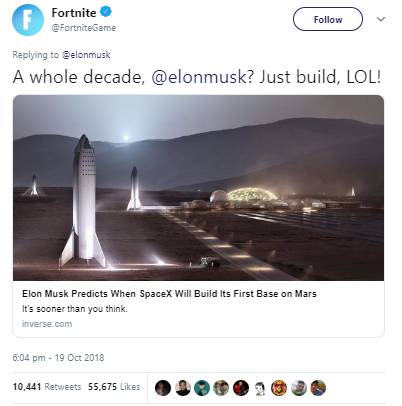 Musk has been quite optimistic about his company's mission to sustain a human presence on Mars. Last month, he revealed that the company's famed renderings, showing a series of big falcon rockets stationed on the red planet alongside roads and a more permanent base, could be brought into reality by 2028.
With both companies now locked at each other's horn, Musk had his unsavory response to Fortnite's skepticism. He pointed out that the real world is different from the world Fortnite inhabits, by stating that "reality is hard."
The exchange of banters caught the attention of a Fortnite player who added imagery to the mockery, tweeting to Musk:
"Excuse me Mr. Musk, but I think it is important to me that I actually lost my virginity after playing Fortnite. Just saying."
To which Musk replied:
"online doesn't count."
Going by the vast followings both personalities command on their social media platforms, those observing the seemingly inflammatory scene took sides. Some others preferred to remain liberal while some tried calling both of them to order.
Fortnite was first released as an online video game in 2017, created by game developers Epic Games. The software package comes in different game modes including Fortnite: Save the World and Fortnite Battle Royale. The company now has about 125 million players, a year after it was launched.
Featured image from Shutterstock.