Thai "Billionaire" Jae Leng Injured by Monitor Lizard in Central Bangkok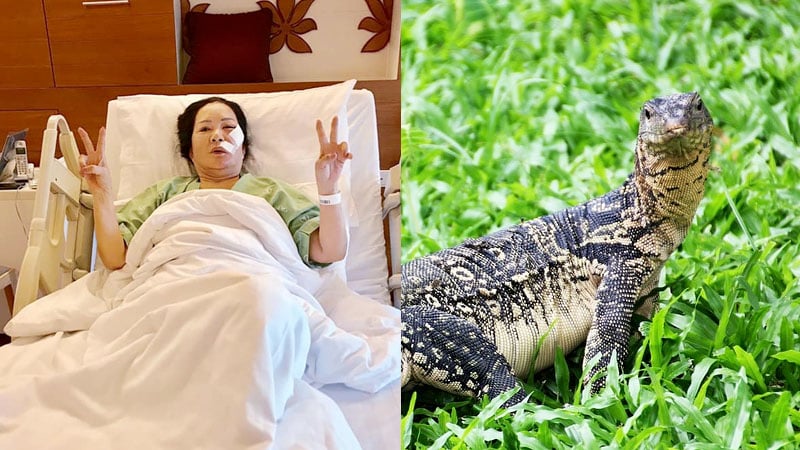 Thai mall operator Araya Lapshewasittichards, better known as Jae Leng, recently survived an encounter with a big monitor lizard in downtown Bangkok.
The Baht-billionaire was on her morning bike ride in Lumpini Park when the massive lizard rambled in front of her. Despite giving the 1.5 meter long lizard lots of time to get out of her way, it stopped and refused to let her pass.
Jae Leng reported that, "When I was sure that it wasn't going to move, I started riding forward, and that's when the lizard bumped into my bike!"
Jae Lang Seems to be Fine
After the 68-year old fell as a result of the lizard-impact, she required brief treatment at a local hospital. Despite some nasty looking bruising and five stitches, Jae Leng was released from the hospital within a day.
She tweeted that, "Jae Leng is not afraid of anything … except monitor lizards," which is totally understandable after her unfortunate encounter.
While Jae Leng was the most recent person to have problems with monitor lizards in Lumpini Park, there have been issues with the giant reptiles in the past.
In 2016 the local authorities removed at least 40 monitor lizards from the same park, after many cyclists complained about the risks they pose. Clearly, they were right about how dangerous monitor lizards can be.
On to More Successes
Araya Lapshewasittichards may have fallen down in the park, but she isn't going to be taken out of the game by a big lizard. She has been working to build her retail empire for more than 30 years in Bangkok.
Originally starting out in a small shophouse, the Chinese born Thai emigrant built up her retail business by offering Bangkok natives imported cosmetics and other luxury goods.
Her 'Jae Leng Plaza' shopping centre was an outgrowth of this initial success, and as Bangkok has modernized, her location near Don Mueang has served Ms. Lapshewasittichards well. Even though she is approaching 70 years of age, she plans to develop the land that her affluence has afforded her all over Thailand.
Jae Leng is thought to be worth more than 1 billion Thai baht, which is roughly $30 million USD at the time of writing.
A Happy Result
It is good to see a hard-working entrepreneur walk away from what could have been a serious accident, given the fact she sustained a head injury.
Another Thai tycoon, Vichai Srivaddhanaprabha, died at the end of October when the helicopter he was riding in crashed in the UK. He has also made his fortune in retail, and was famous for his duty-free empire.
Mr. Srivaddhanaprabha was estimated to have a net worth of around $5 billion USD at the time of his death and owned UK Premier League club Leicester City.