Mike Novogratz's Crypto Investments May Make Him a Billionaire, Again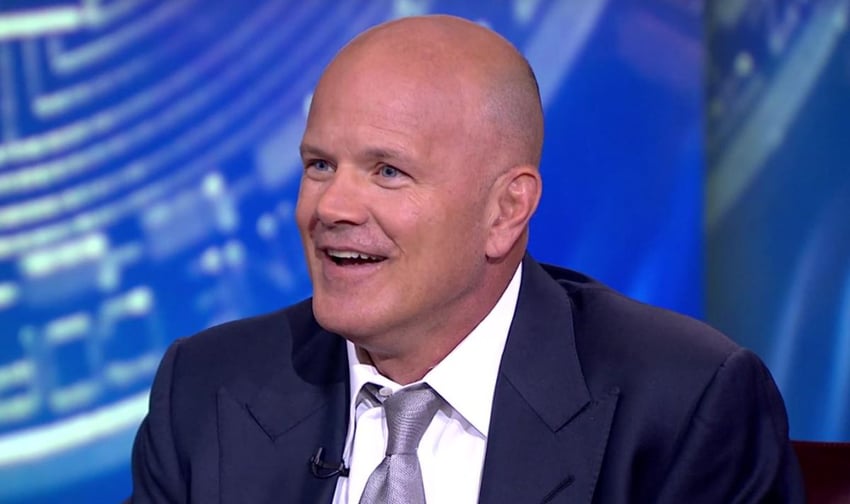 It isn't easy to make money. When it comes to seeing your name wiped off the list of global billionaires, it has to sting. For Mike Novogratz, the rise to billionaire status has happened more than once. Unfortunately for him, it also seems to disappear just as quickly.
Earlier this year Forbes estimated that Mike Novogratz's crypto net worth was in excess of $700 million USD. That figure was created when cryptos were flying high. Today Mr. Novogratz is probably worth a lot less, but it hasn't seemed to dent his enthusiasm for the crypto space.
The crypto billions that recently disappeared are the second time that excessive optimism cost Mike Novogratz billionaire status. The first came in 2008 after Fortress Investment Group's shares value plummeted to around $2 USD per share. They had traded as high as $35 USD in 2007 when the company had gone public and sold off a single digit percentage of their company to equity investors.
Mike Novogratz Knows How to Bounce Back
When the Lehman Brothers-fueled collapse came, Mike Novogratz saw his first fortune get obliterated. In late December of 2008, Fortress Investment Group had to suspend withdrawals from their Drawbridge Global Macro fund, which was hemorrhaging money.
Mike Novogratz was influential in founding and managing the Drawbridge Global Macro fund, and was at its helm when it suspended withdrawals at the nadir of the last crisis. He had been with Goldman Sachs since 1992, and his experience in emerging markets like Latin America and Asia helped him find a place at Fortress Investment Group.
The overall value of Fortress Investment Group was artificially low during the crisis. The underlying investments that Fortress had made were basically sound, and the falling share prices exaggerated the real market conditions in the extreme. After the orgy of selling passed, Fortress's portfolio value improved substantially.
Leaving Fortress and Going Crypto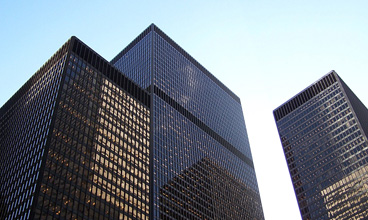 Despite the relative improvement in the Fortresses Macro fund, the company decided to shut it down in 2015. Mike Novogratz walked away from Fortress with a pay package that was worth more than $200 million dollars. Not enough to get him back on the billionaire's list, but not too shabby either.
In 2013, two years before he left Fortress, Mike Novogratz decided to get into cryptos. Back then there weren't many options, and Mr. Novogratz ended up buying some bitcoin when it was still selling for well under $1,000 USD (contrary to popular belief, 2013 was another breakout year for bitcoin, with prices ranging from $100 at its lowest to $1,00 at its highest).
He famously told Bloomberg in 2013:
"Put a little money in bitcoin…Come back in a few years and it's going to be worth a lot."
Mike Novogratz expanded on his confidence in the sector to Bloomberg TV in 2014:
"So there's this open source community where there's huge brain power, let alone all the VC money that's going in. And so from Marc Andreessen and his company to Benchmark… there's lots of smart money going in. I've never seen a small project with more human capital going into it, and so I kind of want to bet just on that alone."
He was talking about the Bitcoin development space, where there were more than 30,000 programmers working on the platform according to his estimates. It isn't hard to see that he was 100% right on the money, and got into cryptos at the perfect time.
Not a Popular Move
However, there has been a lot of criticism hurled at the crypto space. From their beginnings, cryptos haven't been well received by many people in the investment community. Mike Novogratz was clearly cutting against the grain when he was publicly bullish on an asset class that is controversial even today.
"Tyler Durden" of Zerohedge fame, decided to make the following comment on Mike Novogratz's crypto position back in 2013, saying:
"Given that Bitcoin may ultimately make firms like Fortress – that rely on fiat specie – redundant, then doesn't the endorsement of Bitcoin by one of the world's largest Private Equity firms reek of the ultimate failure of BTC as a monetary construct, and seem much more to be merely an attempt by the firm to herd even more momentum chasers into a trade [ostensibly one for Novogratz P.A.] that will be then unwound with Bitcoins ultimately converted into the same dollar they are supposed to replace?"
Looking back, it's ironic to see such skepticism surrounding Bitcoin, and clearly, Mike Novogratz was getting in at a great time. Like many doubters, Tyler Durden places cryptos at odds with the established financial system. Mike Novogratz was looking at cryptos as a technology, and his view of cryptos was clearly a profitable one.
The "Goldman Sachs" of Cryptos
While Mr. Novogratz's calls on the crypto market haven't always been correct, he has been on the right side of the market enough to build up an extremely valuable position. He recently launched a crypto merchant bank that he hopes will grow into "The Goldman Sachs of Cryptos." Called Galaxy Digital Holdings (GLXY.CVE), the company went public in Canada via a reverse merger earlier this year.
A number of prominent crypto-focused companies have used this method to list their equity on a public exchange. Instead of using an Initial Public Offering (IPO), a company buys all the outstanding shares of an existing company and uses it as a vehicle to list their assets on a public stock exchange.
It's much easier to use a Canadian reverse merger than a US IPO. Other notable companies that used this method are HIVE Blockchain Technology and Hut 8 Mining.
Unlike Hut 8 and Hive, Galaxy Digital isn't focused on crypto mining. Mike Novogratz is using the company to invest in crypto companies that he sees as promising investments. Initially, the shares of GXLY saw some major selling, and the company posted some ugly quarterly results. Their holdings were hit hard by the drop in crypto prices, and that seems to have translated into selling pressure for their shares.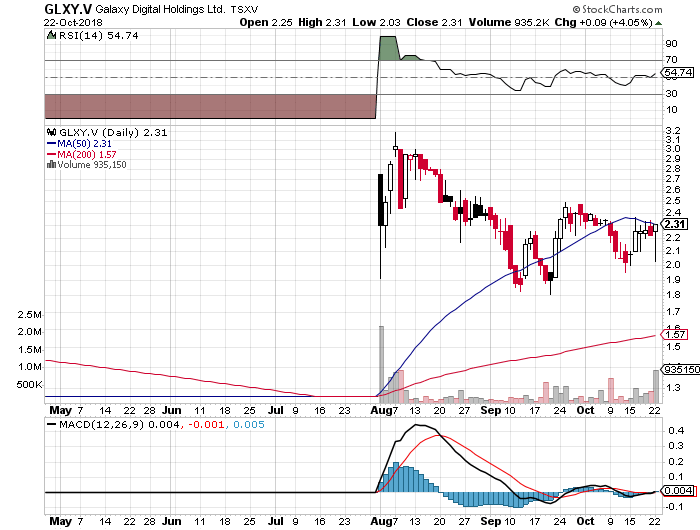 A New Market is Growing for Mike Novogratz
Crypto prices are still under pressure, but it seems like investors are waking up to the idea that Galaxy Digital is about more than holding on to cryptocurrencies. Galaxy Digital recently joined Goldman Sachs in investing at least $15 million USD in BitGo Holdings Inc, which is working on creating a $1 trillion USD crypto wallet.
Mike Novogratz commented on the investment after the details were made public:
"We have been impressed with BitGo's world-class team, their deep technical understanding of digital assets as well as their ability to deliver institutional-quality products to investors. Our team is excited to support BitGo as it enters into this next phase of growth."
Once again, it seems like Mike Novogratz is focusing on technology over crypto assets as such, which may be a good strategy in a sector that is attracting loads of capital. He also called a bottom in crypto prices last month, saying that:
"This is the BGCI (Bloomberg Galaxy Crypto Index) chart… I think we put in a low yesterday, retouched the highs of late last year and the point of acceleration that led to the massive rally/bubble… markets like to retrace to the breakout… we retraced the whole of the bubble."
Still a Wild Market
Bitcoin prices have been more or less flat since Mr. Novogratz called the bottom of an epic plunge in crypto prices. The jury is still very much out when it comes to the future of these assets. He also weighed in on the Tether controversy and encouraged the people behind the controversial stablecoin to increase the amount of transparency in their operations.
Despite the fact that crypto exchange Bitfinex may be insolvent (they are a sister company of Tether), Mike Novogratz used cautious words when he clarified his position toward one of the world's largest stablecoins:
"I'd like to put context to these quotes as the last thing I want to do is spread FUD. I said I thought tether has a dollar for every tether and that we actively traded it. The fact that almost $700mm has been redeemed in an orderly fashion is important."
Decades in the financial markets have given Mike Novogratz a perspective that few in the crypto world have. There's nothing like experience to guide decision making, and that bodes well for Mike Novogratz's ventures in the world of cryptocurrencies and blockchain as the market evolves.
Featured image from Everipedia.org.