If Bitcoin Is a Bubble, Pot Stocks Will Blow Up in Smoke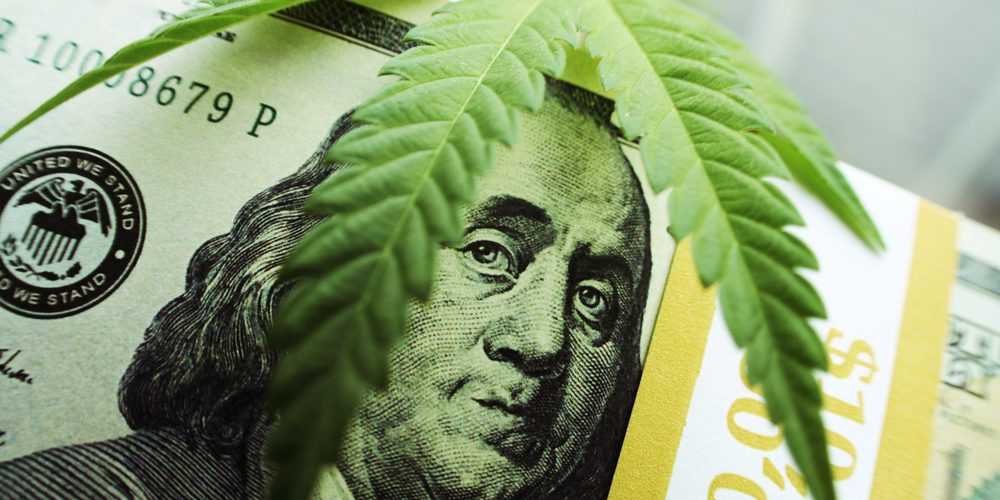 In case you haven't noticed, there are plenty of people making money trading pot stocks right now. Getting high on marijuana? Yes. In some cases, positively flying. Just look at the Tilray (TLRY) cannabis company, whose shares increased by over 1,160% since its IPO to reach a market cap bigger than Twitter.
Of course, they're currently freefalling after their epic high.
So what's the deal with this quasi-legal industry that brings back memories of sitting in the principal's office after school? Is it possible that the mother of all come-downs is about to catch up with pot stocks? If Bitcoin is a bubble, pot stocks are going up in smoke. Here's why.
Cannabis Is Getting Legal
Cannabis is being increasingly legalized across North America. In fact, Canada is on the brink of becoming the first industrialized country ever to legalize recreational marijuana. Instead of a clandestine handshake in the back of a nightclub, you'll actually be able to buy weed straight over the counter. Although, where's the fun in that?
In the US, though, there are still some mixed feelings towards the drug. But since lawmakers started opening up to the idea of medicinal cannabis and even recreational pot, talk of marijuana IPOs and pot stocks has been gripping the wider public.
Currently, there are 10 states, including Washington, D.C., that have legalized recreational marijuana, with 29 more legalizing medicinal cannabis. The industry that used to be brandished as criminal is now a seething hotbed of M&As, deals, and IPOs. And investments this year have already surpassed the $5 billion mark.
Beyond Tilray's mindbending IPO, Aurora Cannabis (TSE: ACB) pulled off the largest marijuana acquisition in history with a $2.5 billion buyout of Ontario's MedReleaf. And the North American Marijuana Index that measures the largest cannabis industry players has almost tripled in value, up some 650% since February 2016.
No way dude. Cannabis is finally having its moment in the spotlight. But it's a classic case of smoke and mirrors.
Hype, Hype, and More Hype
As Canada prepares to reshape the cannabis industry forever, marijuana companies of all stripes are finding their way to the mainstream. The marketing term they weren't allowed to use is now the buzzword du jour.
From recreational-style products to life sciences, medical, and even hemp clothing and beauty products, with less than 10 days to go, the hype is reaching fever pitch.
There's a decent amount of FOMO in pot stocks right now. So it's a great idea to invest if you love buying at an all-time high and watching your stock promptly dwindle. Sound good? Check out the hottest pot stocks right now if you're looking to win (then lose) a fortune.
1. Canopy Growth (NYSE: CGC)
Already one of Canada's major medical cannabis producers, Canopy Growth is well-placed to ride the transition to recreational users as well. Thanks to a vast production capacity, millions of square feet of space to grow on, and even some facilities outside of the country, this is set to be one of the largest producers around.
The company has also been busy establishing its distribution network. With supply agreements all over the country, Canopy now has legal POS for all their crop. Even better than that? In an attempt to straddle the mainstream further, they'll be launching cannabis-infused beverages with partner Constellation Brands soon. Of course, regulation of these won't be finalized until 2019, but you have to love the idea of getting high drinking a soda.
2. Aphria (TSE: APH)
Alongside Canopy, Aphria's production capacity is not to be sniffed at either. In fact, they're looking at producing some 225,000 kilos a year by 2019, overshadowing Tilray and becoming the third largest grower in terms of capacity. They've also been astute when it comes to networking, having lined up agreements across Canada's provinces.
The company further signed a deal with Emblem Cannabis to supply 175,000 kilograms of cannabis over a five-year period beginning in 2019. Oh, and Coca-Cola is reportedly looking for a cannabis partner to make marijuana beverages as well.
Whether Aphria will sign the line with the FMCG giant or not is TBD. But there are plenty of beverage companies in the works that would allow Aphria to further deepen their foothold in the recreational space. And the speculation does wonders for their stock.
3. Aurora Cannabis (TSE: ACB)
Making history through its Medreleaf M&A, Aurora Cannabis has been acquiring cannabis producers left, right, and center. This means it has some pretty deep roots in this burgeoning industry that leave it well-positioned to be one of its biggest players.
With a current capacity of 150,000 kilograms by the end of this year, we should soon see this leap to around half a million kilos thanks to all this company's buyouts.
There are also plans in the works to list their stock outside of Canada on a major U.S. stock exchange, giving the company greater exposure to US investors. Who may or may not be interested after the pot stocks go puff.
Invest in Pot Stocks?
There are plenty of reasons to invest in pot stocks right now. Firstly, because everyone else is doing it. Secondly, because, if you like taking baths, the mother of bubbles is about to burst. And finally, because no one is really sure how high demand for the legalized product will be. It could be explosive leading to shortages in supply(!!). Or, we might just find that people were pretty happy with their neighborhood provider after all.
Analysis from ArcView Market Research and BDS Analytics estimates that the Canadian recreational marijuana market will reach around $2.1 billion next year, with around another $600 million for medical cannabis. These are some bullish projections, to say the least, indicating that share prices could indeed continue to rise. Or, on second thoughts, probably contributing to their high prices currently.
Over-hype, escalating FOMO, and unconfirmed levels of demand… Remember the Bitcoin "bubble"? Pot stocks are headed for a similar fate, get on board now if you don't want to miss out.
Featured Image from Shutterstock.