Gerard Butler & Miley Cyrus Lost Their Homes in Malibu Wildfire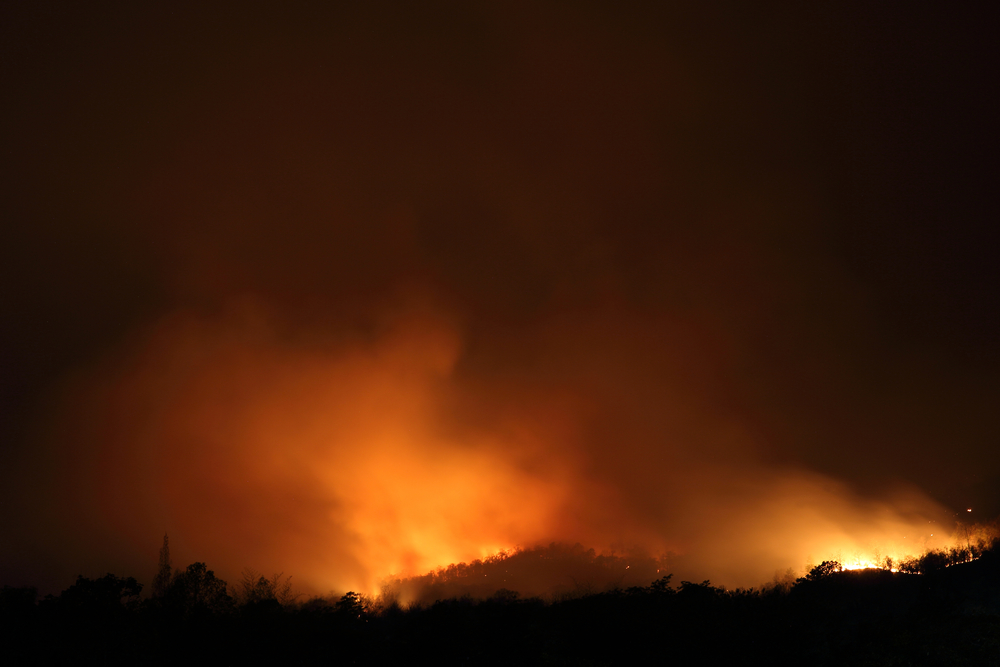 The Malibu wildfire, which broke out on November 8, has destroyed more than 176 buildings including the homes of Gerard Butler, Miley Cyrus, Robin Thicke, Neil Young, and Tracey Bregman. Meanwhile, Lady Gaga, Kim Kardashian, Jessica Simpson, and Khloe Kardashian, along with 250,000 other people, have evacuated their homes.
Gerard Butler
Gerard Butler posted a picture of his half-burned house on Twitter yesterday. He was seen wearing a mask while standing in front of a scorched vehicle, presumably parked near the house.
Butler bought this house, located in Point Dume, in 2016 for $6.45 million. Despite the devastating situation, he thanked the firefighters in his caption, "Inspired as ever by the courage, spirit, and sacrifice of firefighters."
Returned to my house in Malibu after evacuating. Heartbreaking time across California. Inspired as ever by the courage, spirit and sacrifice of firefighters. Thank you @LAFD. If you can, support these brave men and women at https://t.co/ei7c7F7cZx. pic.twitter.com/AcBcLtKmDU

— Gerard Butler (@GerardButler) November 11, 2018
Miley Cyrus
Miley Cyrus also lost her $2.5 million Malibu beach bungalow in the Malibu fire. She tweeted that her boyfriend Liam Hemsworth and her pets had been safely evacuated.
Completely devestated by the fires affecting my community. I am one of the lucky ones. My animals and LOVE OF MY LIFE made it out safely & that's all that matters right now. My house no longer stands but the memories shared with family & friends stand strong. I am grateful for

— Miley Ray Cyrus (@MileyCyrus) November 12, 2018
Robin Thicke
Robin Thicke took to Instagram to thank firefighters for trying to save his $2.4-million house. His wife, April Love Geary, also posted a picture of the ruined structure on her Instagram Story.
Neil Young
Neil Young's $3.6-million house was destroyed in the recent fire. He posted on his official website that this was the second house he had lost in a wildfire.
Tracey Bregman
Tracey Bregman listed her Malibu property in 2013 for $5.5 million in 2013. Yesterday, she posted a picture of the same house being destroyed in the fire.
Liam Payne
Liam Payne tweeted his support to the people who lost their houses and added that he might lose his $11.03-million mansion as well. He wrote:
'Please stay safe and don't take unnecessary risks. I think I'm about to lose my house and its memories.
Meanwhile, the Woolsey fire reached the Bachelor mansion and the Westworld set. Thankfully, no one was currently filming at these locations.
Celebrities Await Safe Return to Their Homes
Lady Gaga and her family evacuated her house on Friday. She said:
"I'm sitting here with many of you wondering if my home will burst into flames."
Kim Kardashian West and her sister Khloe Kardashian were also forced to leave their homes. Later, West dedicated her People's Choice Award to the California firefighters.
Jessica Simpson posted a picture of her house and added that they had evacuated around two days ago. Melissa Etheridge also clarified that she still hadn't moved back to her house.
Orlando Bloom uploaded a picture which showed that the fires were close to his house. However, it appears that he hasn't been requested to evacuate yet. Mark Hamill also assured fans that even though the flames were visible from his house, he was safe.
Thanks for your concern everyone. Although the 🔥🔥 are dangerously close to our home-@MarilouHamill–@NathanHamill–@GriffinHamill–@chelseahamill-Millie-Mabel & I are all safe at the moment & rooting for our #FearlessFirefighters in their battle vs #MeanMotherNature. pic.twitter.com/nBC5HscBlK

— Mark Hamill (@HamillHimself) November 9, 2018
The wildfire began in the town of Paradise and moved to Southern California on Thursday. So far, 31 people have died and 200 have been declared missing.