Amy Adams Strunk Turned the Tennessee Titans Around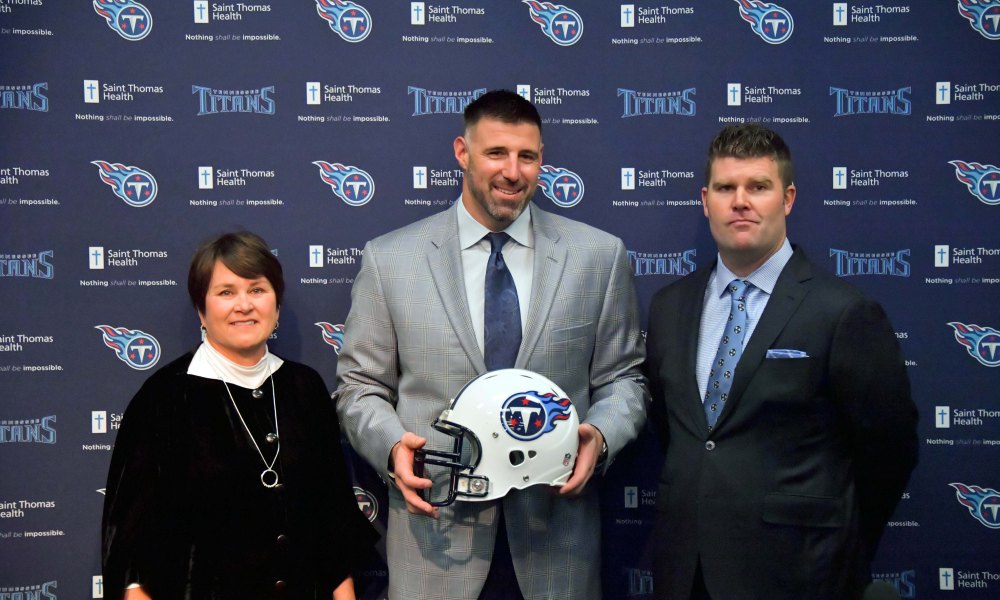 Amy Adams Strunk isn't your typical NFL owner. Her father was Bud Adams, the original owner of what is now called the Tennessee Titans. Unlike many NFL team owners, Amy Adams Strunk didn't grow up in her father's stadium. In fact, the opposite is true.
When her father died a few years ago, there were some problems in the Titan's organization. Morale was low, and the team wasn't performing well at all. Although she wasn't supposed to be the one to take over the reins from her father, Amy Adams Strunk has proven that she has what it takes to make an NFL program run the right way.
Amy Adams Strunk, the Unlikely NFL "Owner"
In truth, Amy Adams Strunk owns a third of the Tennessee Titans. Her sister and the family of her departed brother also own a third. The details of how the Titans fell into shabbiness are almost as interesting as Amy's ascent to power, and how she was finally able to set her family' NFL legacy straight.
Bud Adams, Amy's father, was old school. He made his first fortune in the Texas oil business, which is how he financed the Houston Oilers way back in the 1960s.
He never thought that women could play a role in his organization, and he kept Amy and her sister away from football as she was growing up.
Amy's brother, Ken Adams, was supposed to be the man to take over from his father. Unfortunately, Bud was something of a control freak, and Ken blew his body apart with a pistol at the age of 29. According to Amy:
"He was crushed by the pressure."
No Country for Young Men
In the wake of his son's unnerving suicide, Bud Adams decided that more control was a good thing. Amy told a reporter from ESPNW that:
"After Ken died, his obsession with control ramped up."
The end result of this was an NFL team that got continuously worse in every regard, eventually posting a record of 2-14 in 2014, the year after Bud's death.
When Bud Adams died, Amy's sister's husband took control of the Titans. Tommy Smith had been working with the team for years, and apparently, he was able to deal with Bud.
After his boss went to the big game in the sky, the tools that he acquired in years past didn't seem to be doing the job. At first, Amy and her departed brother's family were willing to let him have a go at running the Titans, but it didn't last long.
Tommy Smith may have been in power, but Amy and her brother's family had majority control of the Titans:
"I felt bad… but we'd given him 18 months. He'd had his opportunity."
Rebuilding the Program
Amy Adams Strunk didn't think she would be the one to look after her father's football team:
"I never saw myself in football… It wasn't the life I wanted. My dad could be very charming, and there were times he was a great father. But he was very hard. He wouldn't have brought me along, 'Someday I want you to run the team.' Nooooo. It would have been about control."
While her father had been distant from the community in Nashville, Amy made sure that everyone knew that the Tennessee Titans were a part of their city.
She also gutted the team. She fired the coach and GM, and over two years nearly half of the organization was replaced under her watch.
Great Ideas Get Results
No one in their right mind would ever suggest that Amy is afraid to make changes.
She also revamped how the locker rooms were laid out:
"We needed to come out of the dark ages and adapt to how things work now."
Before she came to power, the players couldn't see each other when they were in the locker room. She changed that and also installed equipment to dry and cool the players' pads.
Taylor Lewan left tackle on the Titans said:
"Actions speak louder than words… For her to come in and be excited to see me, to give me a hug when I'm all sweaty in my pads, it does something."
The changes she made seemed to take effect quickly. The Titans went from their shameful 2014 performance to a record of 9-7 in 2016 and made it close to the national championship.
That is a huge move in a better direction, and Amy Adams Strunk was clearly the force behind the change.
Featured image from Titans Wire.