$17.8m for the World's Most Expensive Rolex Watch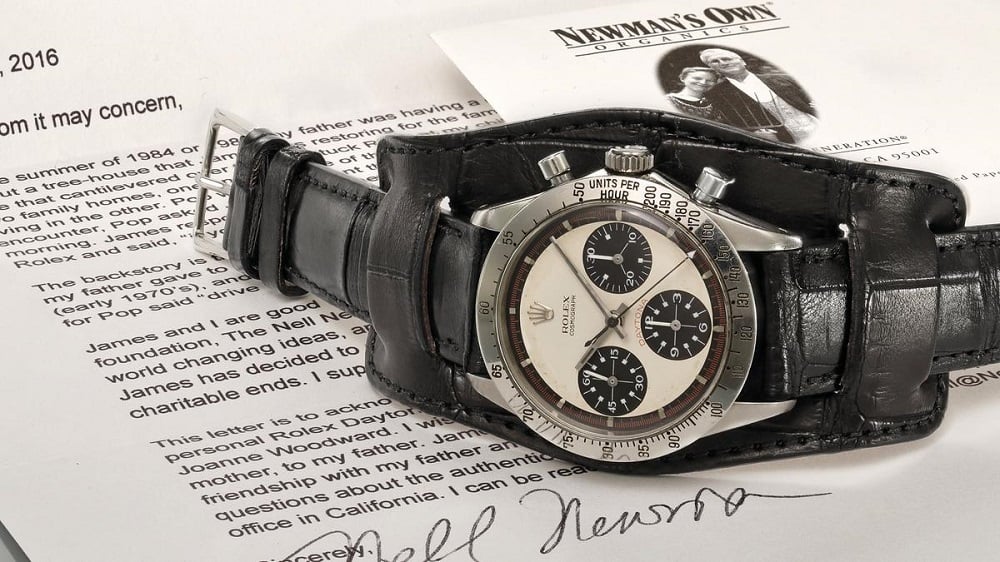 Time is money, or so they say. This is literally true when we talk about the world's most expensive Rolex watch which was sold last year for $17.8 million.
Even most billionaires would think it's obscene to spend so much money on an item so small. But perhaps it is the ultimate show of decadence that you can strap so much cash around your wrist while flipping the bird at the playa-haters.
World's Most Expensive Watch Belonged to Paul Newman
In a recent article detailing the 10 most expensive Rolex watches ever sold, former acting megastar Paul Newman's 1968 Cosmograph Daytona Rolex came in at number-1.
Although Newman's Rolex might not have the same sentimental value as 'the watch' belonging to Butch in Quentin Tarantino's Pulp Fiction, it does have the monetary value to kick-start a military coup in a backward banana republic.
Paul Newman's watch became the world's most expensive Rolex to ever be sold back in 2017 when it was bought for an unprecedented $17.8 million by an anonymous bidder at a New York auction.
The watch was originally a present from Newman's wife, Joanne Woodward, and was purchased back in 1968 from Tiffany & Co in New York for an undisclosed fee. She engraved the watch with "drive carefully" as Newman was getting into motor racing at the time.
The actor went onto wear the watch for the next 15-years before giving it to his daughter's boyfriend at the time, James Cox, as a present.
Although details are sketchy about the watch's story since and why it was for sale, I would guess it's because someone would pay in the region $17.8 million for it. At the end of the day, it's just a watch!
Has the World Gone Money Mad?
Yesterday I wrote about the world's most expensive car, which is the $13 million Sweptail by Rolls Royce. It seems that the limitless wealth and spend-ability of some people know no bounds.
Although it is still an extraordinary show of wealth to buy a car that costs upwards of $10 mil, rocking a $17.8 million Rolex is taking it to the next level.
Has the world gone mad? One would assume it had to be sane in the first place for that statement to be true. If someone is willing to spend so much money to own the world's most expensive Rolex watch, fair play to them I say.
Featured image from N Business.