$100 Million Superyacht Archimedes Will Definitely Float Your Boat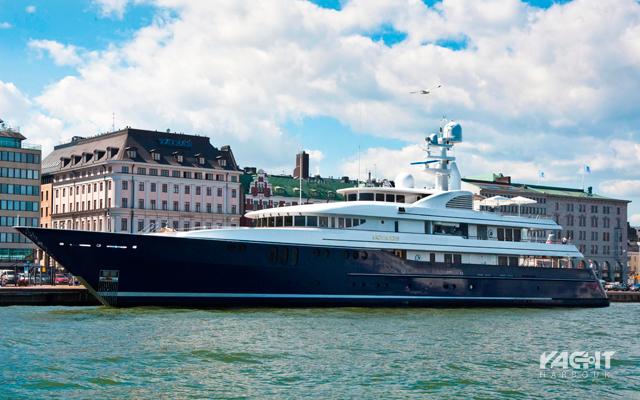 If you can afford $100 million to buy a balance-busting luxury superyacht, you probably have your servants reading this article to you right now. The mammoth superyacht Archimedes is worth $100 million (£75m) and recently stopped traffic, (or should I say the schooners?), when visiting Bristol Harbor in south-western England.
Towering over everything like the endearing image of LeBron James in platform heels, the Archimedes wowed onlookers with its dominating stature and untold luxury fit for a king, or queen.
On Board the Superyacht Archimedes
How something floating on the water can cost in the region of $100 mil is beyond staggering. The superyacht Archimedes is 68-meters long and houses eight cabins sleeping up to 16 guests and 18 staff.
The twin Caterpillar engine spits out an earth-shattering 4,000 BHP, which is four times more power than a Bugatti Veyron, reaching up to 16 knots at top speed.
The vessel weighs approximately 1,100 tons and costs its owners almost $500,000 per year in docking fees alone, not to mention the $320,000 per year for insurance on superyachts of this ilk!
Although the yacht looks fantastic on the outside, it's what's on the inside that counts. And that's where this vibrant vessel excels.
From the majestic tip of its ice-strengthened blue hull to its modern stabilization system and everything in between, this superyacht is built to survive and glide on the waters even in the most frightening of weather conditions.
The boat comes with a stylish sundeck with a luxuriously crafted marble mosaic Jacuzzi, next to a bar and entertainment zone for partying the night away on the seven seas. Keep fit with its onsite gymnasium or dine in style in one of the boats dining and social spaces.
Little billionaire touches like marble floors in the six bathrooms, a grand piano, elevators, and a real fireplace give the superyacht Archimedes a certain elegance you don't often see. Hell, you are on a $100 million boat, so what do you expect?
And if you get bored with all this untold luxury or your own company, you can use the two smaller attached boats to make your escape. Or alternatively, the ship's helipad to fly you into Monte Carlo to see Prince Albert II of Monaco.
Featured image from Yacht Harbour.