Is Floyd Mayweather Going Broke? 50-Cent Thinks so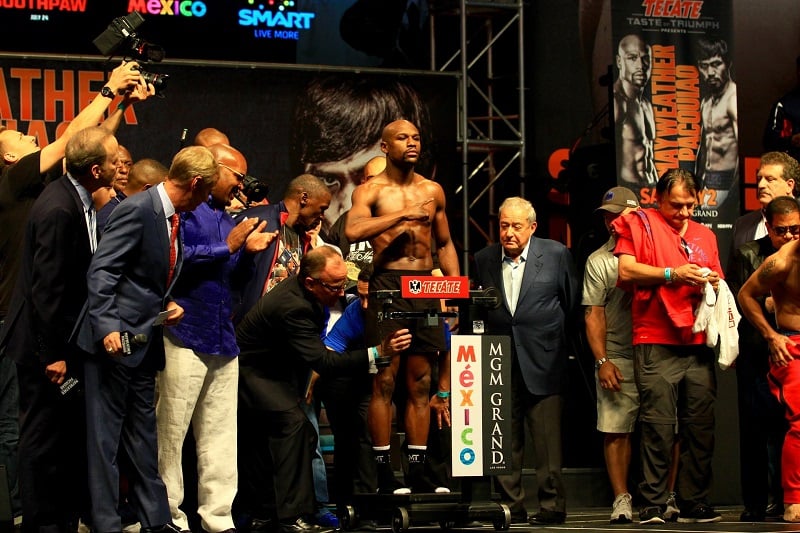 Outspoken hip-hop emcee turned businessman 50-Cent reckons Floyd Mayweather might be going broke or at least has some tax problems.
Some might point to the rapper's ongoing beef with his former friend as a reason for the claims. But there are some strange things happening around the Mayweather circus at this moment in time.
The formally retired boxer had a reported net worth via Forbes of around $700 million at the turn of the year and was listed as making over $200 million in his 2015 fight against Manny Pacquiao alone.
Is it possible that Floyd's cash-flow is dwindling? It seems impossible. But not everything is always how it seems.
Floyd Mayweather MMA Matchup Announcement
Floyd Mayweather's decision to fight UFC fighter extraordinaire Conor McGregor made total sense from a business point of view. But the boxer's recent press conference to announce a New Year's Eve fight against the 20-year-old Japanese kickboxing sensation Tenshin Nasukawa in Japan has left the boxing world scratching their heads.
Former friend now turned enemy 50-Cent, real name Curtis Jackson, had some choice words in regards to the situation on his Instagram page:
Other boxing fans took to Twitter to claim that:
"This screams that Mayweather is going broke."
We all knew a comeback was imminent but we naturally assumed it would be against a former foe and Filipino boxing idol Manny Pacquiao. The choice to fight Tenshin Nasukawa, in a bout whose rules are yet to be confirmed, came out of left field.
The fact that Mayweather turned up to the press conference in Tokyo on Sunday looking a bit disheveled without his usual Floyd Mayweather Promotions team members such as Laurence Ellerbe, has caused some controversy on internet boxing YouTube sites.
Some believe Floyd has gone his own route with this decision. If you look at the logos behind Floyd during the press conference, you will see only the TMT banner. There is no mention of Mayweather Promotions or even his long-time American broadcaster Showtime.
Floyd Is Sending Out Strange Signals
Instead of his usual braggadocios attitude and incessant money talk, Floyd didn't once mention how much he was getting paid for the Tenshin Nasukawa gig.
Is it possible that Floyd has gone rogue with this announcement and seriously needs to replenish his funds? One Twitter commenter speculated that a man who buys an $18 million watch will always need to keep the cash coming thick and fast.
Other commenters on Twitter also chipped in with their opinions such as:
"I wouldn't be surprised if Mayweather isn't doing as well financially as he would like everyone to believe. He has looked desperate in recent months, trying to set up fights with a number of fighters. Even a $300 million dollar payday can go fast if you spend the way he does."
Something doesn't quite add up with these recent happenings. Is Floyd Mayweather just looking to take advantage of his fame while he still can, or are there some underlying problems in regards to his cash flow and the IRS? It will all come out in the wash and 50-Cent will be there to tell everyone about it on Instagram.
Featured image from Pixabay.