Got $200K Going Spare? Why Not Spend It on an Underwater Hotel?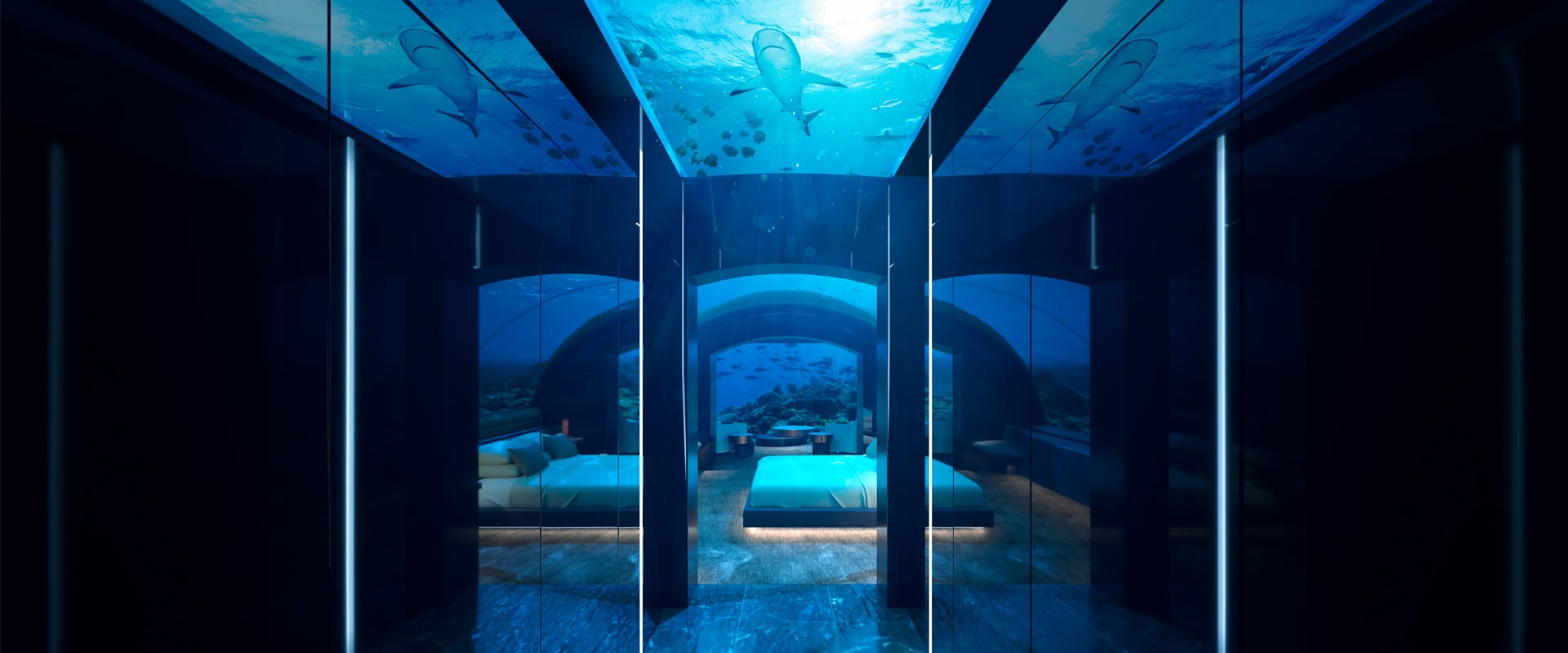 If you're loaded and feeling in need of some serious R&R, why not splash out (literally) on an underwater vacation in the Maldives? The white-sand islands known for their stunning private cabins with clear-glass floors and private walkways just took luxury to a whole new level with the opening of the Conrad Maldives Rangali Island.
Conrad Maldives Rangali Island
The Conrad Maldives Rangali Island is the first-ever hotel residence to open up completely underwater. If you're not too sure about how you'd feel sleeping in an aquarium, fear not, your hotel villa comes complete with rooms above water-level as well.
You can still clean your teeth while being surrounded by tropical fish and other reef creatures–including sharks. In fact, there are no simple rooms at the Maldives Rangali Island, all accommodation comes in the form of mega-suites.
Although, "suite" probably isn't the right word either since we're talking about a two-story villa nestled deep in the Indian Ocean.
$200K for Uninterrupted Rest in an Underwater Hotel
Beyond bedrooms, bathrooms, and all the mod-cons you'd expect from a luxury hotel, the Muraka (Maldive language for coral) also comes equipped with a private gym, infinity pool, underwater sleeping quarters, and your own butler. You also get a relaxation deck above ground in case you're feeling claustrophobic or simply want to work on your tan.
The villa is actually more of a bargain than it sounds at $50,000 a night. The only snag is you have to book for a minimum of four nights, hence the 20K price tag. But you also get your own chef throughout the duration and a private boat, as well as automatic access to Hilton Diamond status.
It should be noted that the Muraka isn't the first underwater venture here since there's already a five-star restaurant where you can dine among the fish. This is the first time you can sleep directly under them, however.
Kind to the Environment
If you're wondering whether any fish were harmed in the making of this luxury hotel, fear not. It was carefully planned down to the last detail to respect the environment. In fact, everything on the Muraka was built offshore in Singapore before being transported on a special ship to the Maldives.
It's also made to be sturdy even during high tides, held tightly in place by concrete pylons to keep it from shifting. So you won't get washed away while the waves wash over you.
Featured image from Conrad Maldives.