Eight Step to Make One Million USD in Less Than 10 Years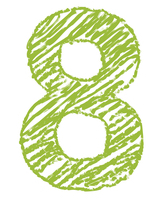 Never ever TRADE. Don't be stupid. Don't think you can beat the market movements on your own. I thought I could, I lost a fortune on it. It is a thrill, you make money fast. It's fun. But you lose it twice as fast, and twice as much. Don't be stupid like me. Never, ever, trade. Invest instead. If you don't know the difference of trading and investing, do a google search.
I promise I'll never trade! What is the ninth step?